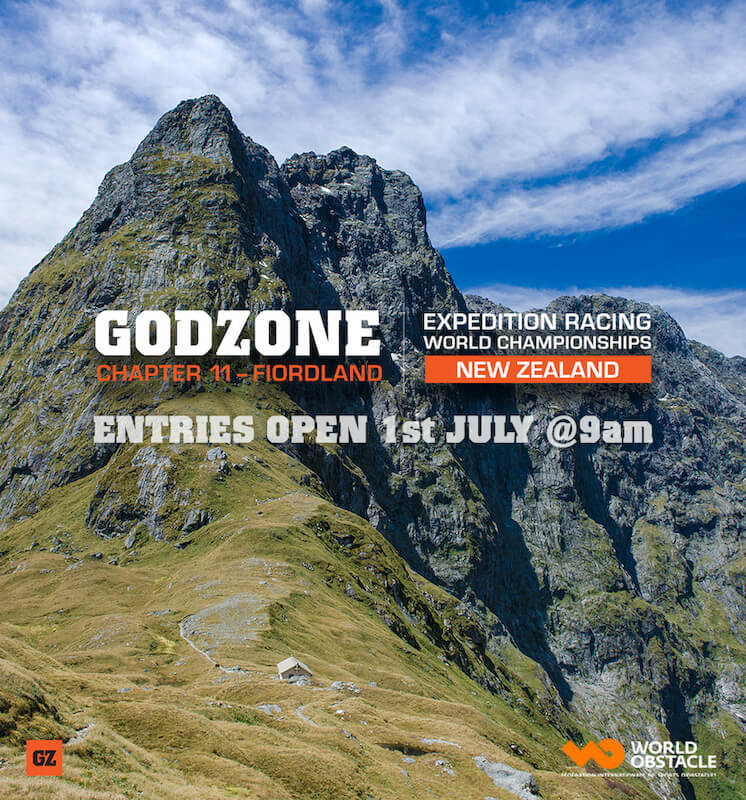 Latest News
EXPEDITION RACING WORLD CHAMPIONSHIPS LAUNCHED FOR GODZONE 2023
Wednesday 1st June 2022
News Categories
Today's launch of the inaugural Expedition Racing World Championships has cemented a bold future for the world's largest expedition racing event, GODZONE, held each year in New Zealand and the wider adventure racing community.
The first ever Expedition Racing World Championships to be hosted by GODZONE in Fiordland, South Island, in March 2023 has been co-developed and sanctioned by World Obstacle – Federation Internationale de Sports d'Obstacles (FISO)based in Switzerland.
"We have reflected on GODZONE'S success over the past ten chapters achieving significant global reach and worldwide recognition. We saw the opportunity to accelerate adventure racing as a sport by creating a new competition hierarchy at a championship level," says GODZONE Founder & Event Director Warren Bates.
"GODZONE has become the biggest, most followed, most watched and highly respected expedition event globally, and these new championships endorse that status."
Bates says the revolutionary new competition sets an exciting vision for the sport to be more internationally recognised.
"GODZONE is now aligned with FISO to develop and improve the governance and growth of the sport to meet the standards delivered at other top international sporting events. FISO has the right to allocate World Championships, World Cups and Continental Championships, allowing expedition racing to gain traction on the international sporting stage and as the recognised world governing body, FISO will assist with opening those gateways."
"It enables us to offer a significant prize pool at GODZONE to reflect the championships status and reward top adventure racing teams while growing participation. To win the newly minted Expedition Racing World Championships against the world's best in the home of the sport will be the ultimate prize in 2023."
FISO is the official international global governing body of obstacle sports,(FISO was granted Observer Status by the Global Association of International Sports Federations GASIF in 2021), including Ninja competitions, Obstacle Course Racing (ORC) and Adventure Racing.
FISO President Ian Adamson, a 23 x international champion and three times Games medallist, has been instrumental in the Expedition Racing World Championships formation. Adamson says the term 'Expedition Racing' has been around since the early 1990s and accurately describes GODZONE'S event philosophy and format.
"Expedition Racing hit the world stage with the Raid Gauloises (1989-2008), which lead to several well-funded races with international broadcast and large prize purses like Eco-Challenge (1995-2002, 2019), X-Games (1995-1997), Outdoor Quest (1997-2004), and Primal Quest (2002-2008.) GODZONE came onto the scene in 2012 and picked up where these races left off."
"The idea of forming an international federation was first proposed after the third medal event for adventure racing at the ESPN X-Games in 1997. We thought that if AR was good enough for the X-Games, why not the Olympic Games. However, people lost interest when the big international events and broadcasts left the sport by 2008, and the sponsors, advertisers and professional teams disappeared."
The opportunity to restart a governing organization re-emerged in 2013 Adamson says led by Spartan Race founder Joe De Sena, whom he met through Eco-Challenge.
"Joe initiated the International Obstacle Racing Federation, nominating me to lead and establish. We formalized World Obstacle as a Swiss not-for-profit international sporting federation, the formal name "Fédération Internationale de Sports d'Obstacles" (FISO), in 2018 with founding national member federations from Europe, Asia, the Americas and Oceania – the minimum required to be a world governing body. Today there are national member federations in 110 countries on all continents – a third of which have National Olympic Committee and National Sporting Authority recognition."
He says it's fitting GODZONE should host the world's first Expedition Racing World Championships.
"New Zealand is arguably the home of adventure racing, with some of the first and longest-running events. The legendary Coast-to-Coast has been the proving ground for generations of top international adventure racers and is still going after more than 40 years. The 1989 Raid Gauloises, or "le Grand Traverse," was held in New Zealand, won by New Zealanders John Howard, Steve Gurney, Russell Prince, Sandy Sandblom, and Anna Keeling."
"This was followed a few years later by the Southern Traverse, using the same rules and format, then the Discovery Channel Adventure Race in 2000, which became the Discovery Channel World Championship Adventure Race in 2001. GODZONE continues this strong tradition, delivering world-class expedition races and drawing capacity fields of the best teams in the world, which is the perfect combination for a bona fide World Championships."
Adamson adds the timing is right for launching the new global competition.
"It's exciting to collaborate with GODZONE to offer a truly exceptional experience for the racing community and engage athletes across all adventure, obstacle and multisport. With the global obstacle and adventure communities engaged and Eco-Challenge again on hiatus, now is the perfect time to bring forward the Expedition Racing World Championships in the ancestral home of adventure racing."
The official Expedition Racing World Championships GODZone Chapter 11 website has launched today with team entries opening on the 1st July (NZST) 2022 on a strictly limited first-served basis; www.godzonadventure.com
ENDS
Quick Facts
What: Expedition Racing World Championships GODZONE Chapter 11
When: 24th – 4th March 2023
Where: Te Anau, Fiordland, South Island, New Zealand / Welcome & Registration Host
Course: The course route remains undisclosed until the event
For general information, go to: www.godzonadventure.com
For more information, interview & imagery requests, contact:
Margo Berryman
Expedition Racing World Championships
GODZONE Media Manager
P: +64 21 246 3342
E: margo@qt.co.nz